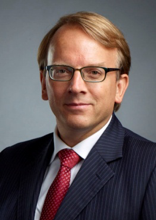 Areas of expertise
Scenario Planning, Strategy and Business Planning

Financial Management and Internal Audit

Compliance & Governance and Risk Management
HR, Organisation Development and Talent Management

IT, Cloud & eBusiness and Cyber Security

Key Account Management, CRM and Sales

Supply Chain, Logistics and Production
Project & Program Management
Education
MSc Energy Engineering, University of Twente
MBA Economics, European University
Key roles
• Shell: Engineer, Process & Project Manager and Economist
• PwC Partner Netherlands: Transportation (Maritime/Aviation/Rail/Road) & Distribution (CPG & Retail) and CFO
• IBM Executive West Europe and Vice President Consulting Asia: Transportation & Distribution
• PwC Consulting Indonesia Managing Partner and South East Asia COO & CIO and PwC Philippines Chairman
• Meratus Group CEO & Commissioner, Indonesia
Charles (53 years old) has been CEO, CFO, COO, CIO and Partner. He worked nearly 10 years at Shell and 20 years at PwC and IBM, of which 15 years as a Partner and Managing Partner. He was responsible for European IBM Consulting Transportation (Maritime, Aviation, Rail, Road) & Distribution (CPG, Retail) business of 0.5 B$ and in Asia of 1.5 B$. Charles has led more than 300 projects for reputable international and national European, Asian and US companies related to: Strategy, PMI, Supply Chain, Operations, Finance, CRM, HR, Sustainability, Technology, Cyber Security.
Before PwC, Charles worked for almost 10 years at Shell obtaining advanced skills in analytical approaches to complex problem solving in the Energy Business Oil & Gas: Process & Project Management, Logistics & Scheduling, Planning & Economics and Strategy & Scenarios.
In 2016, Charles was appointed by the Meratus Shareholders as the 1st non-family Group CEO of the Meratus Group (www.meratusline.com), an 0.5 B USD, 62 years young family owned company with business in South East Asia, the largest Indonesian Transport & Logistics company with 33 branches, global Alphaliner ranking around No 40 with 60 vessels, 25 tug & barges, more than 100 trucks, 2 major Terminals. Meratus Group has many legal entities, about 2000 Office Staff and 2000 Crew and 500 Outsourced Staff in 9 businesses: Shipping Liner, Chartering, Assets, Dry Bulk & Oil & Gas, Ship Maintenance Management, Workshop, Terminals, Logistics and Joint Ventures. In 2020, 3 Third Generation family members were selected to the Board and Charles became Meratus Commissioner.
His passion is to transform organisations into high performing organizations in terms of people, operations, reporting and systems, with a large focus on clients & differentiaton, strategy & execution, and technology & digitisation. He has a strong competency for dealing with the dynamics of an organisation in a transformation: PMI, IPO, JV's, PPP, Multiple Businesses Conglomerate, Family Businesses, Start Ups, Commercial Operating state-owned enterprises.
Charles is a strategic thinker with a hands-on, action-driven mentality and a solid focus on achieving results and benefits in environments with different cultures, stakeholders, norms, values, ways of working and communication.