A NEW OPERATING MODEL
2020 has been a year few of us had foreseen as the pandemic in many ways has changed international trade and challenged the maritime industry. During the last 6 months we have had the privilege of advising and helping a number of companies to transform their operating model to handle the extremely volatile markets.
We would like to say thank you to our customers,  partners, friends and all the amazing people we have met in the industry during this unusual year.
Below we summarise a few of the learnings and share some of our advise for 2021 on how to decide on which shifts to make permanent, and embark on a broader transformation to make this speed and efficiency the standard going forward.
Maritime Partners carried out earlier this year research on the Covid-19 Crisis with the objective to help companies with defining and executing the best possible preparation for the New Normal.
Our main message was :
Being prepared for the New Normal will be a core differentiator for achieving success and results in 2021 and beyond.
Companies who want to change market segments, market shares, branding, clients or suppliers will be in an excellent position to do so.
A significant number of maritime & logistics companies surviving the Crisis will still go bankrupt during the first 12 months of the New Normal if they are not prepared for the New Normal.
COVID-19 is shaping a new operating model, where elements of the agile operating model deliver business gains.
The success, and in some cases the survival, of many companies has depended on the willingness and ability of leaders to quickly shift to and adopt behaviors and practices that best suit the new reality.
Looking across a wide landscape of companies, we see that these COVID-19-driven changes fall into four broad categories, which can serve as useful pillars of an operating model built for adaptability and speed in the face of uncertainty.
PURPOSE SETS PRIORITIES
Faced with the pandemic, companies quickly abandoned their standard process of addressing and balancing multiple competing priorities and instead zeroed in on their most critical objectives. Those companies with a clearly defined and clearly lived purpose had an easier time with this than those with missions ill-defined or unmatched to the reality of the business. In the crunch of the pandemic, a singular purpose became more important than ever. Purpose, above all else, enables forthright decision making at speed.
At one Asian maritime logistic company,  leaders realized that people quarantining and staying at home created a terrible risk for the company: since its core services weren't optimized for online. This company kicked its digitalization efforts into high gear and launched fully redigitalized offerings online in just eight weeks. Before the pandemic, it believed that such a full conversion would take years. But when it saw how critical the need was, it delivered the strengthened digital product in record time.
While purpose can dictate clarity in priorities, it is equally necessary for organizations to build the mechanism to cascade these priorities to the front line. One shipping company implemented a quarterly-business-review process to cascade priorities to its teams. When COVID-19 hit, this backbone process allowed the company to realign the entire organization to a new set of priorities in matter of days.
A FLAT CROSS-FUNCTIONAL STRUCTURE FOCUSED ON OUTCOMES
Many companies have embarked on experiments in which they've organized around outcomes, in flattened structures that replace physical colocation with hybrid models.
To make these kinds of flatter, more collaborative models work, companies must create rigorous processes, build capabilities, and enable decision making at the lowest possible layer. Often, this also requires a fundamental change in how leaders operate and enable their teams to make decisions. Organizing for speed requires faster decisions. Faster decisions require more empowerment of the frontline team. And empowerment truly happens only when leaders let go of traditional hierarchical management.
PEOPLE ARE RESKILLED AND REENERGISED
The clearest evidence of the pandemic's impact on business has been remote working, the dislocation of people that occurred at virtually every company. But remote work itself is the tip of the iceberg. Spurred by their experience during the COVID-19 crisis, more and more companies are shifting their people model to one that values skills-based mobility and contributions instead of location-based work and standard functional expectations.
Clearly, redeployment has been a critical part of serving customers during the pandemic. But much of the redeployment has been accompanied by retraining that gives employees more options in the long run.
Working remote has also its shadow sides which all leaders need to address. Staff burning out and sense of loneliness are serious issues more common than reported. It is crucial that every leader actively follow up on their staff well being and ensure actions are taken if necessary.
NEW TECHNOLOGY TO THE FRONT LINE
Technology is a key element in ensuring the success of empowerment and extension of authority to customer-facing teams. During the COVID-19 crisis, technology resources have been steered toward two main goals: solving customer needs quickly and facilitating the work of customer-facing teams to handle and follow up on transactions.
Developing technology that enables remote work creates new opportunities for efficiency. When the COVID-19 pandemic hit, Verizon suspended in-home installation appointments. Instead, the company developed a new tool designed to help Verizon customers install new equipment and troubleshoot issues at home with remote assistance from a technician. This remote-assistance tool has proved so successful that Verizon believes it will help the company gain access to new markets.
HOW TO TURN COVID-19 SHIFTS INTO PERMANENT OPERATING CHANGE
Across a wide range of industries, we see companies now trying to make some or all of these operating-model shifts permanent. Many business leaders are telling us that the tangible experiences they've had during the pandemic have given them confidence to launch broader transformations.
Business leaders looking to lock in COVID-19-era speed and adaptability would be wise to follow a simple process: reflect, decide, and deploy at scale. Reflection is a crucial first step because so many COVID-19 crisis changes were fueled by adrenaline rather than careful planning. Many may not be sustainable without substantial adjustments, while others may not be useful outside of a full-on crisis such as the pandemic. Reflection may take the form of a systematic review of the current state ("dispassionate assessment"), a blueprint for the new model, a value sizing, and a road map of value capture. The full executive team must then decide, stack hands, and explicitly settle on what changes to the old operating model will serve as the foundation of the new normal. Finally, deploying at scale is typically unleashed by a deep transformation in one area (a frontrunner that is a good representation of what's possible at scale), followed swiftly by company-wide transformation. At that point, companies will be making a series of what we believe are ten to 20 critical design decisions across their operating models. These decisions will determine the full extent of the shift, and no single company will make all the decisions in the same way—there is no such thing as a one-size-fits-all operating model.
That said, the pandemic has made one thing quite clear: companies that want an operating model designed to handle a future of greater uncertainty and unpredictability in everything from capital markets and politics to climate change and the pace of technological change will be wise to learn from the approaches that worked best during the COVID-19 crisis. Not everything companies turned to during the emergency will prove useful going forward. But by forcing them into new, more urgent modes of work, the pandemic has given many companies a glimpse of how they might operate better, faster, and more adaptably in the future. For many, there is simply no justification for returning to the old ways of doing business. The very strongest companies are already acting on this opportunity to reinvent themselves with deliberation and speed. Companies reacting with less urgency are soon likely to find themselves outpaced.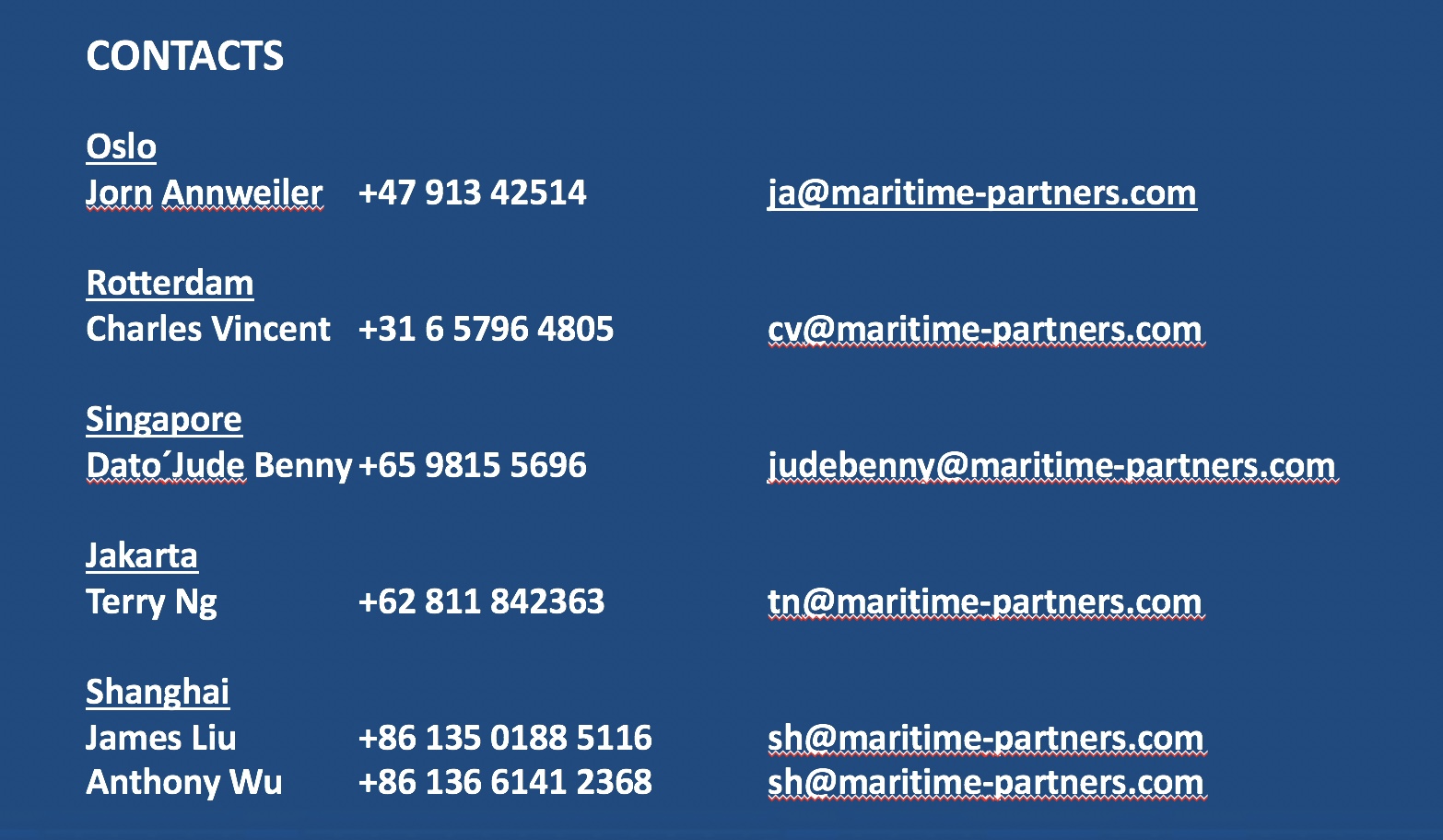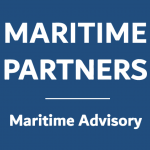 Maritime Partners is an independent advisory firm founded by experienced executives with diverse maritime expertise and networks and particular strengths in Europe and Asia.
Our former senior management positions with leading global maritime companies and start-ups enable us to give our clients practical and valuable advise on both strategic and operational levels. Our services entail: Strategic Planning & Execution, Project Management, Asset Management, Financing, Digitalisation and Business Development.
Our aim is to help our Clients to make better decisions and meet their objectives earlier or better. Also, we are committed to take execution roles in our Client's Company if required by the Client in order to achieve the desired results.
Our Clients include listed and private companies in the shipping & logistics industry, investors, financial institutions, P&I/underwriters and governments globally.